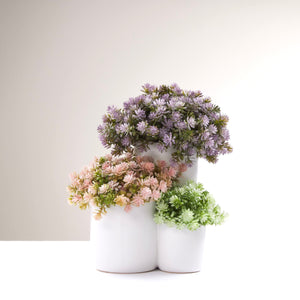 A trio of connected vases in three different heights showcases these endearing sprigs of baby succulents. Packed tightly together and featuring three soft colors that play off each other perfectly.
The muted colors and unique shape of the vase make for that perfect piece that grabs attention, without making too much noise. 
 Perfect as kitchen table centerpiece, on an island or to bring life and cheer to an otherwise boring corner counter!
Vase:7" H x 6.5 W
Overall: 9" H