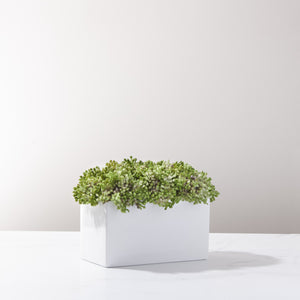 A little hill of real touch sedum, in a most delightful shade of green with an ever so subtle purple undertone, is the hero in this arrangement.
Minimalist in design, yet maximalist in looks.
Base features a glossy white finish with sharp clean lines and is non ceramic, making for a simultaneously luxurious and durable option. 
Fiberglass Vase.
Vase: 7.75" L x 4"H
Overall:10"L x 8"H