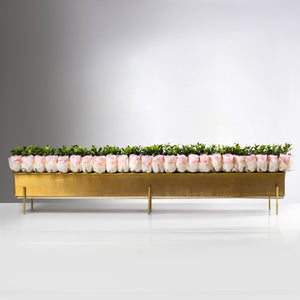 Absolutely striking, this amazing rose centerpiece is a hands down attention grabber. We took the traditional and time honored rose and re imagined it in the most amazing way, harnessing the power of repetition for maximum impact!
Forty eight incredibly lifelike roses, 24 per side stand sentry in this almost three foot vase.
The two piece, brushed gold base can be used together as shown or without the stand if less height is desired.
Vase: 33" L x 5"H x 4"
Overall: 35" x 9" H x 6"W
METAL VASE