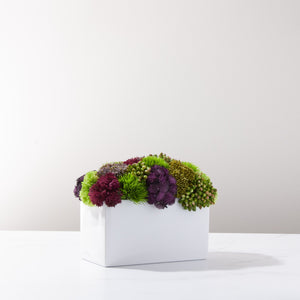 Deep, rich hues define this version of the beloved Sedum Garden arrangment.
Strong pops of color and eye-catching texture have made this everyone's favorite arrangement.
Base features a glossy white finish with sharp clean lines and is non ceramic, making for a simultaneously luxurious and durable option. 
Fiberglass 
Vase: 8" L x 4" 4"
Overall: 10"L x 7"H