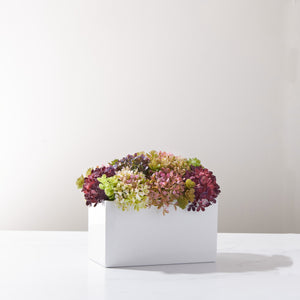 Vibrant floral orbs adorn this contemporary base, peppered with some verdant succulent tendrils for extra texture and charm.
 The blossoms feature a delicate round shape, with mini soft petals, resembling happy hued snowballs
 Base features a glossy white finish with sharp clean lines and is non ceramic, making for a simultaneously luxurious and durable option. 
Fiberglass Vase.
Vase: 7.75" L x 4"H
Overall:10"L x 8"H