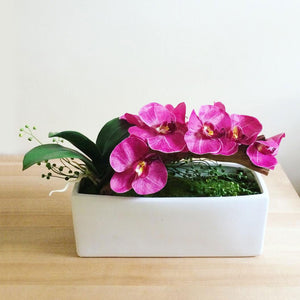 Betcha didn't know that there are over 20,000 species of orchids.
Wondering which one of them all wins the popularity contest? That's right its the  Phalaenopsis right here! (To be fair, all the orchid types featured in our arrangements are in the top 10  :) )
Here we feature and gently arcing orchid over a wind smoothed driftwood branch, perfectly mimicking the way an orchid like this would grow in the wild. (Really, research it! Its fascinating!)
Finished off with with real preserved moss, to make it feel at home in the tropics, and accented with some tiny lotus pods for a touch of whimsy.
The base is a white ceramic rectangle, which offsets the vibrant color of the orchid, while providing a clean neutral base that does not distract.
Bring the magic of the tropics home, and make it last. Fauxever.
.Vase: 14" x 5" x3
Overall: 18" x 6" H
CERAMIC VASE