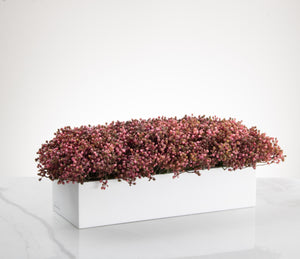 This unique flower, made up of clusters of tiny flowering buds is becoming a fast favorite, prized for its beautiful colors and its interesting and attractive appearance.
Here, we amassed it in this clean and sharp vase which creates the perfect backdrop to let the flowers shine in all their glory!

Available in two colors. Lavender and Mauve (shown here). Choose the one that fits your taste and decor best and smile every time you see it!
Fiberglass Vase
Dimensions:
Vase: 16" L x 4" x 6"
Overall:
8" H x 20" L